Car Engine Service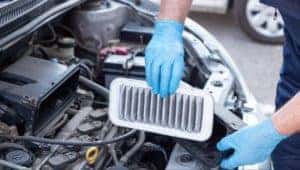 At Kearny Mesa Chrysler Dodge Jeep® RAM, our team stands behind our vehicle lineup 100%. Our cars, trucks, and SUVs come from some of America's most-trusted brands, so we know they are as reliable and durable as it gets. Even so, it's important to bring your vehicle into our Jeep service department every so often to ensure that your SUV's parts are in proper working order. This is especially true of your car engine.
Engine Wear
There are a variety of factors—both external and internal—that can take a toll on your Jeep engine. Broadly speaking, engine wear typically fits into one of four categories. First of all, there's abrasive wear, which is caused by external contaminants, such as dirt or debris, entering the engine through the air intake system. Our team can solve this with a new air or oil filter, in most cases. Corrosive wear occurs when chemicals attack your engine's metal surfaces, while fatigue wear results from the stress of improper lubrication and friction. Our Jeep dealer in San Diego, CA can also diagnose adhesive wear, which happens when metal surfaces adhere to each other after periods of intense contact. No matter which type of engine wear your Jeep vehicle is suffering from, we're confident that our experienced automotive technicians will be able to diagnose and fix the issue. Many times, the solution is as simple as replacing one of your Jeep parts.
Why Service at Kearny Mesa Chrysler Dodge Jeep® RAM
In addition to our experienced technicians, we think you'll choose Kearny Mesa Chrysler Dodge Jeep RAM for your service needs because we respect your time and budget. Customers can quickly schedule their service appointments on our website by filling out a simple form, and they can even use our Express Lane Services to get in and out during a lunch break. We also offer plenty of Mopar coupons and specials on parts and services to save you money. If you would like to learn more about engine care or what our Jeep dealership offers, please visit us at 8010 Balboa Avenue near Poway, CA. Our Jeep dealers will be happy to assist you or answer any remaining questions you have about our service department.